How to Become a Certified Transcriptionist: What You Need to Know
In this blog post, we will answer the question "How to become a certified transcriptionist". Becoming a certified transcriptionist can be challenging, but it is easy if you have the right information. In this blog post, we will provide you with all of the tips that are needed to become a qualified transcriptionist. You will learn how to get a certification, what type of skills are required for this position, how much money you can expect to make in your career as a certified transcriptionist, and how to get started on your journey!
Disclosure; This post probably contains affiliate links. We only recommend products we use and love and all opinions expressed here are our own.
What Is A Trancriptionist?
A transcriptionist is someone who is skilled in how to transcribe audio or video files.
This person listens to the file, and types out what they hear. This can be used in a variety of situations including legal proceedings where someone needs to have a record of how it sounded during that proceeding or for people who are hard-of-hearing so they can watch videos with subtitles.
Many transcriptionists work from home as freelancers because there is a need for transcription services in many different industries. There are also some companies that hire employees to work from their office.
There are many different types of transcription jobs, but they all require the same basic skills.
Is There a Demand For Transcriptionists?
The demand for transcriptionists is high and continues to grow. With the growth of online content, there is an ever-growing need for individuals who can accurately transcribe audio and video files into text format.
When Should You Consider Becoming a Transcriptionist?
If you are an individual who is detail-oriented, has strong listening skills, and enjoys working independently then becoming a transcriptionist may be the perfect career choice for you. It can also give individuals with full-time jobs or families more flexibility in how they work their schedule
My Experience as a Transcriptionist
When I started my freelance career around 6 years ago I was dedicated to making a full-time income as a freelancer. I tried a bunch of different freelance jobs including being a transcriptionist. Medical transcription was a field that appealed to me as I worked as a nurse specialist for 10 years. I took a course online that got me certified for transcription. I then started to look into how much money could be made in other fields of transcription and found that business and legal were the highest paid types of transcriptions.
I took on any and every project that was sent my way, no matter how complex it seemed at the time. After a few months of hard work and determination, I finally got to the point where I could comfortably take on projects with tight turnaround times without sacrificing quality. I was also earning a decent income which was enough to pay my bills and even put some money aside.
Types of Transcriptionists
Transcribers, like any other job, may choose to specialize in a certain area. The most common categories are:
Legal transcriptionist
A legal transcriptionist is someone who transcribes legal audio and video files. This type of transcriptionist usually has a background in law, and they are skilled in understanding legal terminology.
Health transcriptionist
A health transcriptionist is someone who transcribes medical audio and video files. They understand medical terminology and how to accurately document patient information. It's a benefit if you have experience in the medical field, but it is not necessary.
IT transcriptionist
An IT transcriptionist is someone who transcribes audio and video files related to information technology. They understand how to accurately document computer terminology and technical language.
Business transcriptionist
A business transcriptionist is someone who transcribes business audio and video files. This type of transcriptionist usually has a background in business, and they are skilled in understanding business terminology.
General transcriptionist
A general transcriptionist is someone who transcribes audio and video files that don't fall into any other category. They may have a background in any area, such as law, medicine or business. However, it is important to note that this may also be the most difficult type of transcriptionist to find work with, as there are fewer opportunities for general transcribers.
How much does a certified transcriptionist make?
A transcriptionist's salary can vary depending on a number of factors, including experience, specialization, and location. However, the average certified transcriptionist makes around $15-$17 per hour while an advanced transcriptionist can make around $25 to $30 per hour.
How To Become A Certified Transcriptionist
There are no standard requirements for how to become a professional transcriptionist, although various organizations provide certifications to those who wish to learn more about transcriptions.
A certification will make it so much easier for you to get a well-paid job.
The course I took that I highly recommend if you want a certification as a transcriptionist is the one from TCI (Transcription Certification Institute). This course is well known within the industry and will improve your credibility when you're looking for transcriptionist jobs. It's 100% online & self-paced and you will have guaranteed internship with a qualifying course score. They also offer ongoing career support after course completion and a discussion board with support from other transcriptionists as well as access to new job listings on their TCI Job Board. They also give you unlimited free access to the 'Accuracy Assessment Tool'.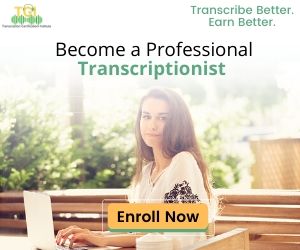 For example, the National Court Reporters Association (NCRA) certifies Registered Professional Reporters (RPR). RPRs, unlike regular legal transcribers, are only assigned to court records. As most legal issues are highly sensitive and confidential, some states require additional certification and training for those who work with court transcripts.
Meanwhile, to become a health transcriptionist, the Association for Healthcare Documentation Integrity (AHDI) is one organization that offers education programs to those who wish to pursue a career in healthcare transcription. AHDI offers both Registered Healthcare Documentation Specialist (RHDS) and Certified Healthcare Documentation Specialist (CHDS) examinations as well as modules and webinars to supplement a transcriptionist's or beginner's credential.
Do You Need to Be Certified to Be a Transcriptionist?
Freelance transcribers do not need to be certified; most employers simply want you to pass a typing speed test. But it's seen as beneficial if you have a certification and you will stand out among your competitors.

To become certified as a freelance general transcriptionist, or to specialize in the legal or medical transcription niche, you must complete the criteria set forth by a certifying agency.
Skills Needed to Be a Transcriptionist
In order to perform the position and work on demands with high quality and as quickly as possible, you must have certain transcriptionist skills.
Detailoriented
In order to be a successful transcriptionist, you must be detail-oriented. This means that you must be able to pay close attention to the audio or video files that you are transcribing and ensure that all of the information is accurate.
Have strong listening skills
When you listen to audio and video files, how do you know what is important? You must be able to identify keywords or phrases that need to be included in the transcription. This can include information such as names of people, places or specific dates. In order to have strong listening skills, it's a good idea for beginners to practice listening to podcasts, television shows or audio files that are similar to the type of content you will be transcribing.
Have good research skills
If you are an advanced transcriptionist or looking to become one, then research skills will be very important for your job. You must be able to correctly cite any sources used within the transcript.
Authoritative writing skills
In order for a transcriptionist's work product to have value, it must include all relevant information and meet certain standards in how it is formatted. This requires a strong level of writing ability as well as knowledge of how to properly format the transcription as well as grammar and punctuation.
Fast and accurate typist
A fast typist is essential for any transcription job. You also need to have great accuracy in your typing skills. Most work is time-sensitive and you must be able to type quickly and accurately. If you find that your hands are shaking or it takes too long for you to finish each sentence, then consider learning how to touch-type or taking an online course on speed-typing.
Ability to follow guidelines
In order to ensure that all transcription jobs are done uniformly, most companies have a set of guidelines that must be followed. The ability to follow these guidelines is essential for any transcriptionist.
Familiar with computers and software
Since the majority of transcription work is now completed on a computer, it is important that you are familiar with common software programs and how to use them.
Be able to beat the deadline
Transcription work is often time-sensitive, so you must be able to meet deadlines on a regular basis.
The Pros of Being a Transcriptionist
There are many benefits of working as a transcriptionist.
Here are some pros of being a transcriptionist:
You can work from home or anywhere with an internet connection.
You get paid per audio hour so you don't have any limits on how much you choose to earn
It gives people more flexibility in their schedule
No need to commute or sit in traffic for hours
You can work whenever you want and how much you choose, allowing you more time with friends and family.
Related: How to make money with proofreading online jobs (no experience required)
The Cons of Being a Transcriptionist
There are some cons that come along with working as a transcriptionist:
It is not very lucrative when starting out so it may be a long while before you make enough money to support yourself.
You need good speed and accuracy since the work is time sensitive
It can become very tedious at times, especially when transcribing lengthy or repetitive videos/audio files.
Transcriptionist Tools and Equipment
In order to work as a transcriptionist, you will need the following transcriptionist tools and equipment:
Computer with reliabe internet connection
You will need a computer that is fast and has plenty of hard drive space to save your audio and video files. It is also helpful if your computer has a transcription program already installed on it.
Most of your transcription work will be completed online, so you will need a reliable internet connection as well.
Transcription software
There are several different types of transcriptions programs, some of which you must pay for and others that are free to use. You will need to find the right one that works best with your computer's operating system. Some examples include Express Scribe Pro, Transcriber Pro and Dictation Pro.
Headphones
To avoid distractions and to better hear the audio files you are transcribing, it is helpful to use headphones. Some transcriptionists prefer headphones while others like using earbuds because they are more comfortable during long work sessions. The important thing is that your headphones allow sound into both ears.
Foot pedal
A foot pedal allows you to control the playback of your audio files with your feet. This leaves your hands free to type. There are a number of different types of foot pedals available on the market.
Microphone
If you are transcribing interviews or other audio files that involve more than one person, then you will need a microphone to capture all of the voices accurately.
Computer keyboard covers
This is an optional tool, but can be helpful if you are prone to making mistakes while typing. Computer keyboard covers are thin plastic sheets that fit over your computer's keyboard. They usually come in bright colors and can help you more easily identify the different keys on the keyboard.
How Long Does it Take to Become a Transpriptionist?
The time it takes to complete the certification process will vary depending on how quickly you can master each skill. A course may take anywhere between three months and one year in order for a student to become proficient in transcription skills, software programs or legal or medical terminology.
How Much Does it Cost to Become a Transcriptionist?
The cost of becoming a transcriptionist will vary depending on the organization or institution you choose to pursue certification from. Generally, most courses and materials needed for certification can be found online or at your local library. There are also some organizations that offer free courses in order to become certified.
Where to Find Jobs as a Transcriptionist?
There are a number of ways to find work as a transcriptionist. The most common place to start is by searching online job boards such as Indeed, Monster, LinkedIn or CareerBuilder. You can also search for specific companies that you would like to work for on their website. Another option is to network with other professionals in the industry and ask if they know of any openings.
How Fast do You Need to Type to Be a Transcriptionist?
The speed at which you type is not as important as the accuracy of your transcription. Most organizations require a minimum of 60 words per minute, but many transcriptionists work faster than this. Typing speeds of at least 65 words per minute (wpm) are recommended for beginning transcribers, while most experienced transcribers type between 75 and 90 wpm. Don't worry if your typing speed isn't there yet; with time, you will be able to type much faster. As long as you are able to produce accurate transcripts, your typing speed will not be an issue.
How Hard is it To Be a Trancriptionist?
I personally think that transcribing is a job that needs a lot of attention and perseverance. Because transcription is more difficult than it appears. You have to listen and type at the same time. You also need to have a lot of patience and stay focused throughout the entire session.
The work can become a bit lonely sometimes but the freedom it can give you to work remotely and choose your own schedule is worth it. Transcription can also be a very lucrative career for those who enjoy writing and working from home. It's definitely not an easy job, but the satisfaction you get at the end of each session is well worth all that effort!
Personally, I've focused more on the social media manager direction in my freelance career last years but I love mixing this up by taking on some medical transcription jobs from time to time to get some variation.
Related: How to become a freelance social media manager
Conclusion
Becoming a certified transcriptionist is not the easiest thing in the world. It will take time, patience, and perseverance to become proficient at this skill set. But once you are able to master how to transcribe accurately, it can provide an excellent opportunity for earning income while working remotely or from home.
Taking a transcriptionist online course is a great way to go if you want to start your own transcriptionist business.
The more effort you put into becoming qualified for this position- whether by taking courses or getting additional experience through internships -the more likely it is that your search for employment opportunities will be met with success!